Summer 2021 is finally here and lockdown restrictions in the UK are quickly becoming a distant memory. #freedomday saw hundreds of people gathering with friends and family in pubs, clubs, and gardens and has finally given us a reason to wear something other than joggers and make the most of summer styles! After a whole year of loungewear and hoodies, summer 2021 is all about dressing to impress and leaving your house every day with style. To help you step into post-Covid life with a wardrobe to die for, we have created a list of our must-have summer looks for all of your post-lockdown plans.
T-shirts that can be worn at the gym or to the beach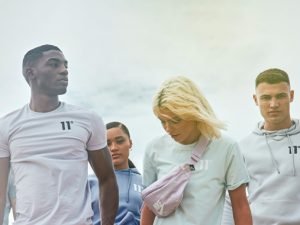 Athleisure has been trending for a while and our latest collection of summer t-shirts are the perfect blend of athletic design with the comfort that is needed for a relaxing day in the summer sun. Our t-shirts are perfect for those sweat workouts or to be packed for your holidays.
Men's t-shirts
Our men's range of athleisure-inspired t-shirts are all about combining simplicity with a pop of colour. We offer both regular and muscle fit tees in a range of summer shades from light grey to peach. Opting for these lighter colours is a great way to brighten up your look and get into the holiday spirit!
We know that, when working out, it's always good to keep things simple. Our men's t-shirts include simplistic designs and bold patterns that are inspired by workout gear, making them perfect for hitting the gym.
For those keen festival-goers, our men's t-shirts also come in a tie-dye design which will elevate any rave look and put you right at home in the sea of colourful festival-goers. To take this look from the festival field into your everyday wardrobe, try pairing the tie-dye print with simple denim shorts and a baseball cap.
Women's cropped t-shirts
You can never go wrong with a simple cropped tee, and this year we are elevating this timeless piece even further by giving it that trending athleisure twist. This summer, why compromise style when hitting the gym? Our range of women's t-shirts offer simple, sporty designs that are perfect for both working out and going shopping with your friends. For an effortless summer look, try pairing a cropped athleisure tee with a pair of cycling shorts and chunky trainers.
Shorts are a summer staple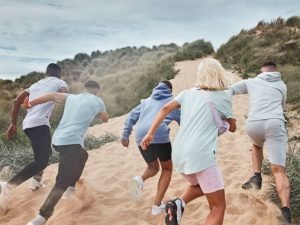 One thing that everyone should have in their wardrobe is a pair of simple summer shorts. While many of us have been wearing that same pair of trusty denim shorts for years, this summer it may be time to revamp this classic piece and invest in a pair of shorts that will keep you ahead of the trends.
Men's jogger shorts
The current trend for men's shorts is to prioritise comfort and practicality. Our range of men's jogger shorts do exactly that and come in a range of colours and designs that will go with every wardrobe. If you want to play it safe, our core sweat shorts in black are a great option that looks good with any outfit.
Women's cycling shorts
Something that many celebrities have been spotted wearing this summer are cycling shorts. These simple shorts go with almost any outfit and can be dressed down or up for any occasion. Cycling shorts can be worn in the gym, to the beach or even to the club with a nice top and heels!
Another great thing about this trend is that cycling shorts are super comfortable! Gone are the days of squeezing into tight denim shorts on a hot summer day. Instead, our cycling shorts are made from light breathable material that will keep you cool on days spent in the sun. Shop our logo black cycling shorts for that perfect pair of summer bottoms.
Keep cool in vests and cut-offs 
Summer 2021 is all about keeping cool while looking great! Luckily, our range of vests and cut-offs can help you achieve just that.
Men's vests and cut-offs
Our men's vests have been designed for maximum comfort and practicality. These are a great item to pack in a holiday suitcase or even into your gym bag this summer. The core vest in black is a wardrobe staple that looks great with any outfit.
Accessories make the look! 
Everyone knows that accessories are an all-important addition to your outfit, which is why we have wasted no time designing some excellent pieces for your summer 2021 wardrobe. Whether you're looking for a stylish new cap or a pair of trusty slides, we have you covered this summer!
Caps and hats
Caps and hats are a summer essential that offer protection while elevating any look. Our summer collection includes a range of stylish caps and hats, designed to go perfectly with our range of summer t-shirts and shorts.
All of our caps feature our simple logo, which makes the piece look interesting without overcrowding the design. Our hats come in a selection of trending colours including white, black, pink, grey and lime green. Try pairing a cap with some sweat shorts and a core vest for an effortless summer style that will make you the envy of your social group.
Slides
No summer look is complete without footwear. If you are looking for the perfect shoe to match your summer wardrobe, look no further than our range of core slides. Slides are breathable yet practical and make the perfect shoe for any summer adventure. Our core slides feature a simple logo design that will elevate your look without drawing attention away from your main outfit.
What you wear plays a huge role in how you feel about yourself, which is why our summer 2021 collection prioritises comfort and style. You can shop our full range online or follow us on social media for more summer 2021 inspiration.